As a Led Panel light manufacturer in China, Quark Lighting always aims to offer a kind of high-quality Led Panel light, which emits even and bright light, has modern appearance, high efficiency and also is energy-saving. From the beginning of development, there are two types of Panel lights based on the shining method: Edge-lit Panel light and Back-lit Panel light. The difference between edge-lit and back-lit lies in the position of LEDs and the usage of LGP(light guide plate). Normally, Back-lit Panel Light doesn't have any LPG due to direct shining method.
We'd like to begin with the structure of traditional Panel Light- Edge-lit Led Panel light. Please see the picture below to know the main structure of edge-lit Led panel light.
The main structure of Panel light consists of six parts: LGP(Light guide plate), Diffusor Plate, Reflector film, LED light source, Frame and Back Plate, Led driver. We'll talk all six parts one by one to give you some guides to know well the Panel light.
1. Firstly, let's talk about the light source-LEDs
LEDs come in a variety of sizes and brands. Sanan is our qualified supplier for a standard Panel light. But Quark lighting can have some other suppliers such as OSRAM,EVERLIGHT, Etc if you specify the requirement.
The comparison of different LEDs
LEDs
Size(length*width)
Advantages
Disadvantages
Conclusion
3014
3.0*1.4mm
Low price

For 2.5T/3T LGP

Low light efficiency

High thermal resistance

Medium cost effective
4014
4.0*1.4mm
Low Price

For 2.5T/3T LGP

Low light efficiency

High thermal resistance

Medium cost effective
2835
3.5*2.8mm
For 4T LGP

Low thermal resistance

Easy to procure

Suitable price

High cost effective

Most common used in the market

3020
3.0*2.0mm
High light efficiency

Low thermal resistance

For 3T LGP

Difficult to procure
Low cost effective
The size 3014 and 2835 are very popular in the market for Led panel light production. LEDs in the same size from different brands show different optical parameters. We choose the ideal LEDs for Panel light according to the light design and optical requirement. A high CRI and light efficiency LEDs obviously will improve the whole Panel light's optical performance under the same light design. A back-lit Led Panel light usually take 2835 for the light source, but 3014 will be a good choice for an edge-lit panel light.
2. LGP(Light Guide Plate)
LGP is one of the critical factors to determine the quality and service life of Led Panel light. Choosing an excellent LGP will let you get a smooth Led Panel Light without any dark spots or water ripples. The working theory of LGP is to transfer the linear light to surface light. When light enters LGP from both sides of the light source and touches the reflection dot, it will be diffusely reflected onto the surface of LGP, the other part is that light penetrates directly LGP and reaches the surface. Therefore, the reflection dot's distribution and design play an important role in LPG's function. The material and design of LGP determine mostly the Panel light's luminous efficiency and brightness. Quark lighting usually takes PMMA silk-print LGP for our panel light. There are different processing methods with different materials. Each material has a suitable processing method. The main processing technology of LPG includes silk-print, laser engraving, etching, and injection molding.
| | | |
| --- | --- | --- |
| Process Technology | Corresponding Material | Suitable LEDs |
| Silk Print | PMMA | 3014/4014 |
| Laser engraving | PS | 3014/4014/3020 |
| Etching | pc | 3014/4014/3020 |
| Injection molding | pp | 2835 |
3. Diffusor plate
The aim of diffusor is to export uniformly the light of LPG, and also to blur the reflection dots. Main material of diffusor plate: PC, PMMA, PS, PP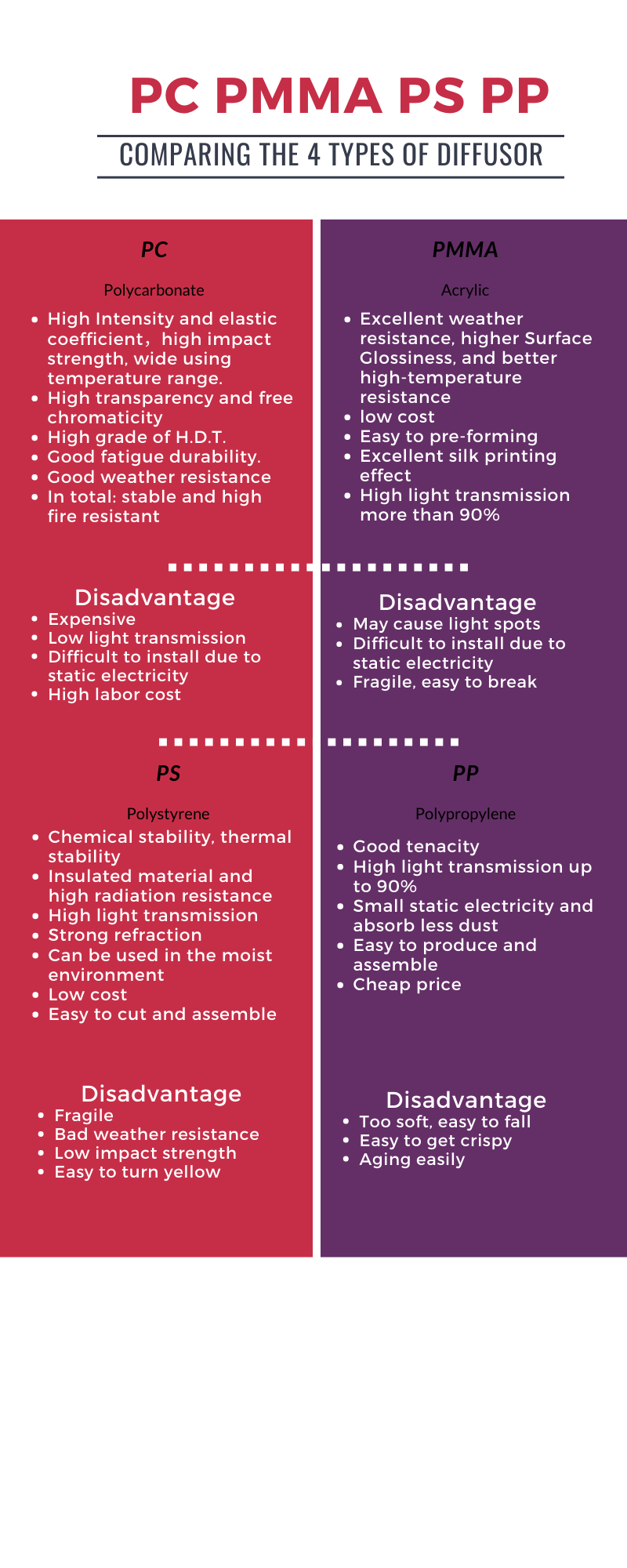 4. Reflector film
The purpose of the reflector is to reflect the light exposure on the bottom to the light guide plate, to improve the efficiency of light.
5.Frame and Back plate
The frame is for the appearance and also for the heat dissipation. Quark lighting offers mainly the extruded aluminum(AL6063) frame for Panel light, which is the most common material for Panel light production in the market. There are also stamping aluminum and die-cast aluminum for making the panel light frame. Die-cast aluminum is mainly used to making the panel lights that have a seamless profile in small sizes.
The back plate is to seal the whole Panel light and help also the heat dissipation. Therefore, it's very common to use metal material to produce a back plate such as 1060 aluminum, iron or aluminum composite plate. 1060 aluminum is the ideal material. We recommend that the thickness of the back plate should arrive at least 1mm for a good sealing and heat dissipation.
6.Led driver
After introducing the main mechanical composition of Led panel light, the last important part is Led driver, which connects the light with AC power. Normally Led Panel light has an external driver to supply power. It's important to select a suitable driver so that the light works longer. Some important tips to follow while choosing the Led panel light driver:
Power and current: Choose the driver that has correct output power range and current
Electronic circuit model: isolated circuit will be safer than non-isolated circuit as Panel light has an aluminum frame and back plate.
Power factor: A high power factor let your panel light more energy-saving
Protection and Safety compliance: Be sure the driver has enough protections such as open-circuit protection, short-circuit protection, overvoltage protection, over temperature protections, etc. Meanwhile make sure the driver has passed a certain certification such as FCC, TUV, CE, etc.
Other configurations: dimmable or non-dimmable, constant current driver or constant voltage driver, etc.
As also a Led driver manufacturer, Quark Lighting offers always a suitable Led driver for the Panel light. You can have more details about Led driver selection from here.
The end
Now we come in the end of the structure of the edge-lit Led Panel Light. The back-lit Led Panel light has a simpler structure. LGP is not necessary for backlit Panel light. We'll explain the difference between edge-lit and back-lit in details in the coming blog.